In today's dynamic world, everyone wants to bag the best deal, especially when it concerns air travel. Google Flights, with its recent advancements, aims to make this dream a reality. Whether you're planning an early holiday trip or a spontaneous vacation, Google Flights now offers enhanced tools to ensure you get the most value for your money.
Upgraded Insights on Booking Timings:
Ever been in the dilemma of whether to book a flight now or wait for a better deal? Google Flights has enhanced its insights feature to aid in this decision-making process. Previously, you could see if current flight prices were low, average, or high based on historical averages for your chosen route. Now, it shows when the prices have typically been the cheapest for your desired dates and destinations. This ensures travelers have a clearer picture of when to grab that ticket.
Automated Price Tracking:
One of the new additions to Google Flights is the price tracking feature. Once activated, users will be notified if there's a significant drop in flight prices. This is particularly handy for those with fixed travel dates as well as those who have a more flexible schedule. All you need to do is make sure you're logged into your Google account.
The Price Guarantee Badge:
This is a game-changer! Certain flight results now come with a colorful price guarantee badge. This means that Google Flights is confident that the price won't drop any further before your departure. If, however, the price does decrease, Google promises to refund the difference via Google Pay. Currently, this is a pilot program available only for specific "Book on Google" itineraries departing from the U.S.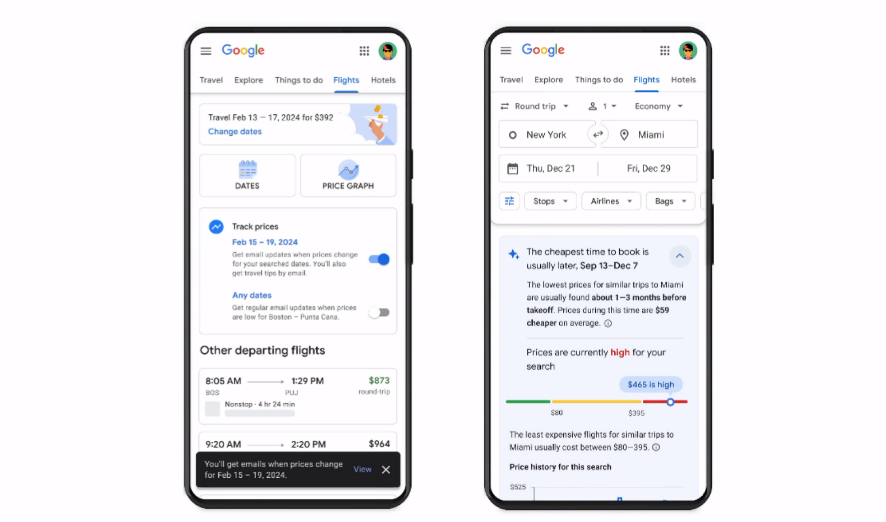 Flight Booking Trends for 2023:
On top of these tools, Google Flights also offers insights on 2023 flight booking trends based on historical pricing. For instance:
For Christmas flights, deals are most likely to appear around early October, with prices being lowest approximately 71 days before departure. This is a significant shift from the 2022 trend, which found the lowest prices 22 days prior to departure.
If Europe is on your mind, booking a flight 72 days or more before departure fetches the best deals. Prices only seem to go up the closer you get to your departure date.
Equipped with these advanced features, Google Flights promises a smoother, more informed, and economical flight booking experience for users. The next time you're thinking of soaring the skies, remember these tips, and may you always land a good deal! Be safe!