TikTok, the popular short-form video platform, has rolled out its detailed 2023 Holiday Marketing Guide. Although the full 17-page guide is accessible upon email sign-up, we've delved deep to summarize the pivotal insights and tips for you here. If the rising prominence of TikTok in the marketing sphere is any indicator, marketers and brands alike would do well to pay attention.
TikTok as a Discovery Tool
A noticeable trend emphasized in the guide is the evolving behavior of shoppers. Increasingly, users are turning to TikTok not just for fun, engaging content but also as a primary tool for product discovery. It's not just about scrolling through entertaining videos; it's about finding the next product or trend they want to jump on.
What the Guide Offers:
Month-by-Month Planning: TikTok's guide equips businesses with a systematic plan, detailing key dates and events throughout the holiday season that brands should be mindful of.
Starting on TikTok: For businesses that are yet to make their debut on the platform, the guide offers a practical, step-by-step walkthrough to navigate the initial stages.
E-commerce Solutions: TikTok isn't just about viral videos. With a plethora of tools and e-commerce solutions, the guide provides insights on maximizing engagement and driving sales.
Creative Best Practices: The holiday season brings a specific ambiance. TikTok offers seasonal creative guidelines to ensure your content resonates with the festive spirit.
Impactful TikTok Videos: It's not just about creating videos; it's about creating an impact. With the guide's tips, brands can craft joyful and memorable videos that not only entertain but also promote their business effectively.
An intriguing point highlighted is the transition in how people perceive and use social platforms. While platforms like Facebook and X (Twitter) began as tools for social interaction, the next wave, led by TikTok, leans more towards entertainment. This shift isn't merely anecdotal. The emphasis on using TikTok as a "trend-based search engine" indicates a broader pivot in consumer behavior.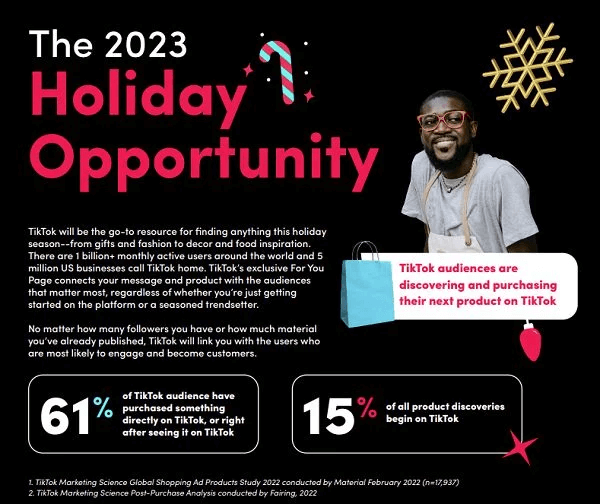 The holiday season has always been a crucial period for brands and marketers. With TikTok emerging as a dominant force in the social media landscape, its 2023 Holiday Guide serves as a timely playbook. As consumer behavior shifts from passive interaction to active discovery, brands that strategically leverage TikTok's tools and insights stand to gain a competitive edge in the bustling holiday market.
To capitalize on the upcoming holiday season, brands should integrate TikTok into their marketing strategy, considering its expansive reach and influence. This guide acts as a comprehensive resource to navigate TikTok marketing effectively, from the initial stages to more advanced tactics. Remember, TikTok is not just another social media platform; it's the forefront of modern-day consumer discovery. Don't miss out on this golden opportunity.