17 music publishers have filed a lawsuit against Twitter in federal court in Nashville, Tennessee. They allege that the company allowed thousands of copyright violations by allowing users to publish music without a license.
Twitter Lawsuit
According to the dispute, Twitter is responsible for "countless infringing copies of musical compositions," which boosts user engagement.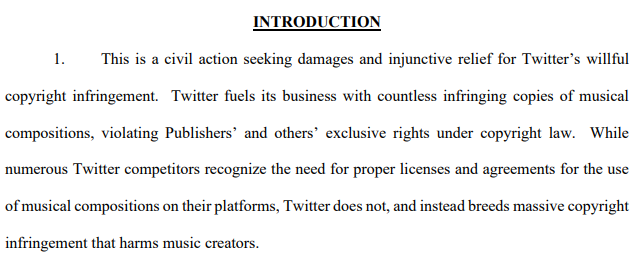 More than $250 million in damages are being sought by members of the National Music Publishers' Association for the alleged violation of approximately 1,700 copyrights.
Elon Musk's Twitter is causing more copyright infringement compared to other platforms like TikTok, Facebook and YouTube, which obtain legal licenses for music from publishers.
According to the publishers, "Twitter's internal affairs regarding matters pertinent to this case are in disarray," as the business has made significant changes to its legal and trust-and-safety departments under Musk's leadership.