LG Electronics has unveiled its rejuvenated global campaign – "Life's Good" – aiming to inject the world with a dose of optimism. With the transition to a post-pandemic world and evolving consumer needs, LG's campaign offers a timely message of hope and positive energy.
The campaign, which launched on August 22, saw a captivating digital presence at global hotspots, from Dubai's Burj Khalifa to New York's Times Square. These strategic locations maximize reach, reflecting LG's commitment to connecting with global consumers. The imagery, reflecting LG's revamped brand identity, brims with vibrancy and dynamism.
Core to the campaign is a call to embrace life's positive moments, a sentiment especially poignant amidst global shifts and uncertainties. This global endeavor also delves into LG's long-standing ethos: truly living the "Life's Good" philosophy.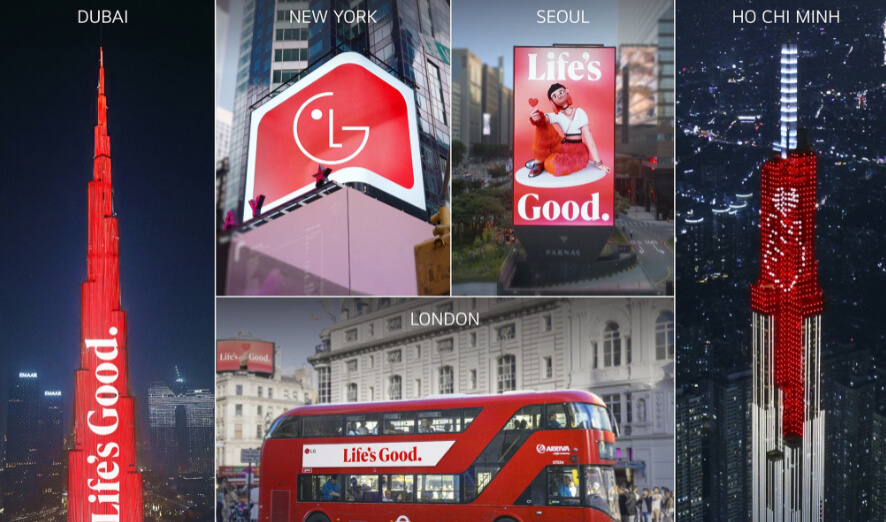 The spotlight also shines on LG's refreshed brand identity. With its launch in April, the company has been consistent in portraying a youthful, lively brand image. A delightful glimpse of this is evident in the campaign's videos, where the "Face of the Future" animation, a play on the letters "L" and "G", exudes varied emotions. Not to be missed is the vibrant LG Active Red, a new hue in the brand's core color range.
Tapping into the pulse of the digital age, LG is actively engaging the younger audience on platforms like Instagram and TikTok. Come August 25, users can expect engaging features like the "LG Finger Heart Filter" and the "Life's Good Sticker Package". This forms a fragment of LG's strategy to bolster global engagement, offering unique, interactive brand experiences.
Lee Jeong-seok, at LG Electronics' Global Marketing Center said "LG is committed to actively communicating and providing innovative customer experiences that evolve with the times, recognizing the changing needs of customers. We aim to enhance our communication with customers by sincerely sharing our core value and the message of Life's Good. Filled with optimism, this message will be delivered to customers worldwide at various customer contact points.".
We believe that in an age where brand messages can easily get lost in the noise, LG's "Life's Good" campaign is a beacon, blending genuine positivity with marketing innovation. It underscores the power of a well-orchestrated campaign to foster connections in an increasingly digital world.