The digital transformation continues to accelerate, and artificial intelligence stands at the forefront. LinkedIn, in its latest report titled "AI at Work," offers a deep dive into the effects of generative AI on various industries. The report, which is set to be the first in a series of quarterly insights, paints a vivid picture of AI's role in the current job market.
A significant observation from the report highlights that global English-language job postings referencing new AI technologies, like GPT or ChatGPT, have surged 21x since November 2022. Furthermore, as of June 2023, the number of LinkedIn members with AI capabilities was nine times greater than the figures from January 2016.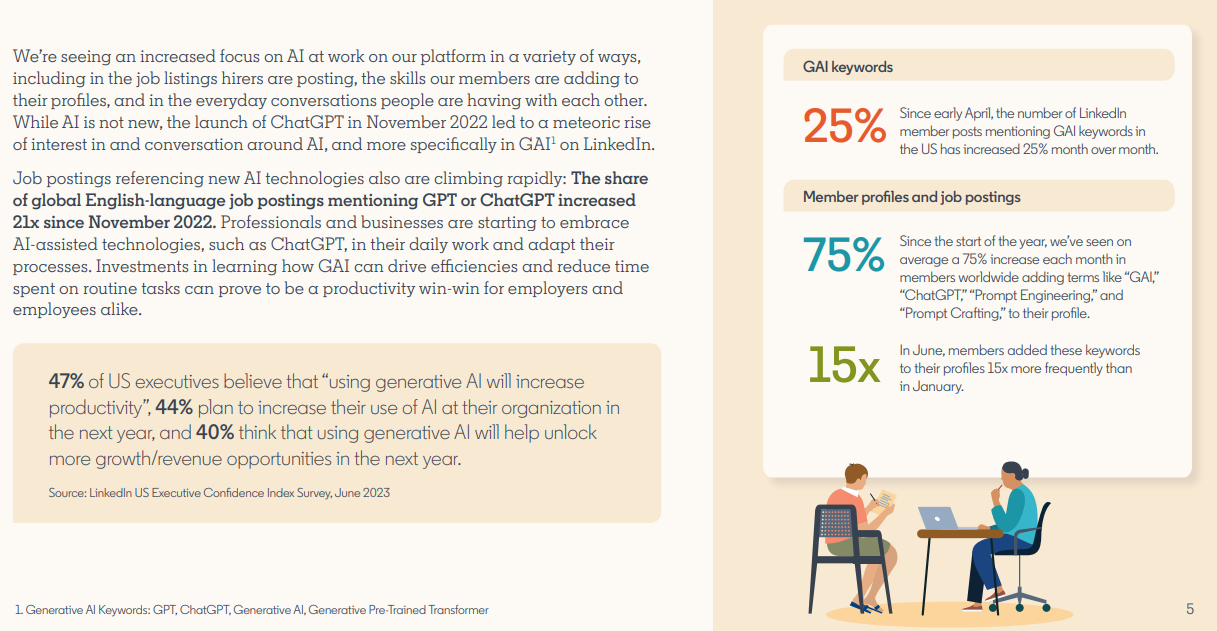 LinkedIn's data isn't just about numbers. It offers a narrative – a world where AI skills are becoming a must-have for professionals. Conversations on the platform suggest that business leaders are taking note, particularly where AI expertise is increasingly dominating job postings and member profiles.
Yet, amidst this growing interest in AI, there are concerns. The report indicates that almost half of US executives, 47% to be precise, view generative AI as a catalyst for enhanced productivity. This sentiment hints at a potential move towards businesses integrating AI tools, possibly even at the expense of human roles. However, it's crucial to recognize that generative AI predominantly serves as an aid, demanding human intervention to truly unlock its potential and maintain precision.
In the midst of this technological renaissance, industries must strike a balance. Embracing AI is essential, but understanding its role as a complementary tool, rather than a replacement, is paramount.